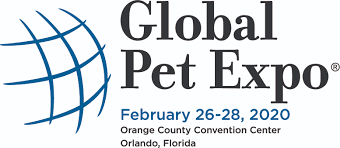 March 23, 2020
16th Annual Global Pet Expo Wraps Successful Show, Highlighting the Importance of Trade Shows
Andrew Darmohraj, evp and COO of the American Pet Products Association (APPA) last week announced Global Pet Expo successfully wrapped its 16th show with solid numbers during the three-day premier industry event. Global Pet Expo, presented by APPA and the Pet Industry Distributors Association (PIDA), featured a show floor spanning 354,100 net square feet of exhibit space.
Despite a travel ban due to the coronavirus (COVID-19) outbreak that prevented some of the show's exhibitors and buyers from entering the US, Global continued to demonstrate its importance as a place to do business. Total buyer attendance came in at 6,041, 22 percent of which consisted of international buyers representing 78 countries. Attendees from all 50 US states were represented with an increase of 6 percent from the West Coast specifically, while domestic attendance from mass market buyers was up 17 percent during the last year. Additionally, the show featured 1,066 exhibiting companies with 3,541 booths filled with the latest and greatest in pet product innovations many of which made their debut at this year's event.
"The ways in which COVID-19 has changed the world are still unfolding, and while it wasn't quite business as usual, we are extremely product of the Global Pet Expo team for their tireless work to not only adapt to the changing landscape but pull off a safe and productive event with unparalleled show experience," said Darmahraj. "With more than 20 percent of buyers registered coming to Global Pet Expo for four or more years consecutively, it demonstrates the vital role this trade show plays for pet retailers. It should also be noted we had 222 first-time exhibiting companies, recognizing Global Pet Expo as an exceptional opportunity for new entrepreneurs and business entering the industry."
The 2020 Global Pet Expo Academy attracted a record 2,000 attendees. The Academy, managed by PIDA, featured 15 speakers offering 46 hours of free retailer education on trending topics such as marketing, social media, store design and customer service. Likewise, the well-attended 15-minute mini sessions took place in the New Products Showcase and offered valuable information to attendees in a convenient location on the show floor.
"We're proud to offer free access to these first-class educational programs," commented PIDA President Celeste Powers. "This is the opportunity of the year to learn from many of pet retailing's best-known authorities on a wide array of business-building topics. By providing retailers with this important education, it's our goal that this information will not only deepen their knowledge, but also put their businesses on the road to success in 2020 and beyond."
During Global, APPA released its annual pet industry spending figures where APPA CEO Steve King reported that US sales of pet products and services came in at an astonishing $95.7 billion in 2019. King also released initial findings from APPA's National Pet Owners Survey Generational Report.