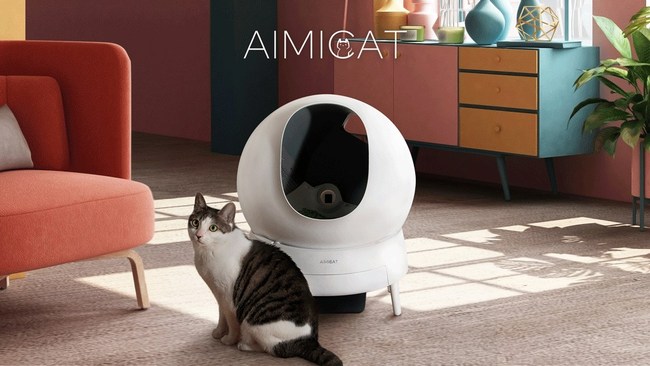 May 12, 2020
Aimicat Announces Launch of Advanced & Hygienic Automatic Cat Litter Box
Aimicat, a passionate group of robotics engineers and pet products experts, announced the launch of Aimicat – a revolutionary cat litter box that features automatic cleaning, odor elimination and the most advanced hygiene features for pets. It is available now on Kickstarter.
What happens when a nagging problem like cat litter maintenance is presented to a passionate group of pet designers who also happen to be award-winning robotics experts? The answer is Aimicat, the most advanced and hygienic litter box ever created. This stylish pet poo solution makes litter-shoveling a thing of the past, keeps owners' homes tidy and fresh and is ultimately kitty-friendly.
"Cat boxes are notorious for odors and mess and are the biggest pain point for cat lovers. Cleanup is a messy hassle and cats often seek other options if they encounter a less-than-fresh litter box. We knew we could use tech to improve the situation for owners and cats by carefully considering important factors such as odor capture, hygiene and cat-friendly ergonomics. We dedicated research to creating a design that totally eliminates odors using negative air pressure and carbon filter along with advanced materials for self-cleaning and automatic scooping. We also designed an interior space that appeals to cats' natural instincts for cleanliness so they will feel safe and comfortable while doing their business. Together, Aimicat satisfies the needs of both the pet and the owner," said Jian Tian, CEO, Aimicat.
Aimicat uses simple but smart technology. A proprietary infrared sensor detects movements with lightning speed and precision to monitor when a cat enters and completes its business, then Aimicat automatically removes the soiled litter into a sealed holding container using a rotating elastic, non-stick silicone apparatus that cleans and scoops simultaneously. During the process, a powerful negative air pressure deodorizing system keeps cleaning the air internally with an ultra-quiet integrated fan that pushes unwanted smells through a carbon filter to be evacuated from the container in a fresh condition.
The globe-shaped cat box is specially designed to provide a safe, clean and private place for cats and its noiseless operation eliminates odors, toxins and the hassle of cat cleanup for owners. When used by one or two cats, the system holds about a week's worth of refuse and cleanup is as simple as lifting out a plastic bag to be properly disposed of.
Aimicat is a safe, effective and tidy answer to the problem of kitty cleanup and gives cat owners a hands-free and hygienic way to keep their homes fresh and their pets happy. Aimicat is available now on Kickstarter with special deals and discounts for early adopters. Learn more here.