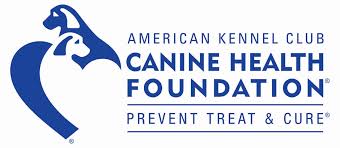 April 14, 2020
AKC Canine Health Foundation Welcomes Calvin B Carpenter
The AKC Canine Health Foundation (CHF), a leading non-profit organization dedicated to advancing the health of all dogs and their people, welcomes Calvin B. Carpenter, DVM, MBA, DACLAM as its new Executive Director.
After a nation-wide search, the AKC Canine Health Foundation Board of Directors has selected Dr. Carpenter to lead the Foundation based on his experience in biomedical research and program management. In 2020, as CHF celebrates 25 years of canine health research and educational programs, the Foundation is well positioned to build on its success in advancing the health of all dogs.
"Dr. Carpenter's robust experience in biomedical research and programs management will help guide CHF programs' continued growth," said CHF Board Chairman, Dr. Charles Garvin. "His leadership skills as demonstrated in corporate and US Department of Defense endeavors provide the Board of Directors with great confidence that Dr. Carpenter will soundly lead CHF into this next chapter."
Dr. Carpenter earned his veterinary degree at Oklahoma State University and his MBA at the University of North Carolina at Chapel Hill. He completed a Laboratory Animal Medicine Residency at the United States Army Medical Research Institute of Infectious Diseases (USAMRIID) and is a Diplomate of the American College of Laboratory Animal Medicine.
Dr. Carpenter has extensive experience managing biomedical research in the military, corporate and academic sectors. He has supervised laboratory animal operations for the military including USAMRIID and Walter Reed Army Institute of Research, was a Research Professor and Attending Veterinarian at George Mason University, Head of Animal Resources at Alcon/Novartis and is on the Association for Assessment and Accreditation of Laboratory Animal Care (AAALAC) International Council of Accreditation. He has managed multi-million-dollar research and development programs in biomedical research, including oncology, neuromuscular disorders, biodefense and highly pathogenic infectious diseases.
"The AKC Canine Health Foundation has a strong and diverse research portfolio to address the health needs of dogs now and in the future," said Dr. Carpenter. "I look forward to working with the Board of Directors, staff, donors and all dog lovers to continue its success improving diagnostic and treatment strategies for canine disease."
Dr. Carpenter joined CHF effective April 13 and will be based in the CHF North Carolina office.
Dr. Garvin notes, "The Board is most grateful to Dr. Diane Brown for her fine leadership and outstanding accomplishments as our CEO and Chief Scientific Officer. We wish her well in her future endeavors and know that CHF will continue its exemplary work for dogs under Dr. Carpenter's direction."