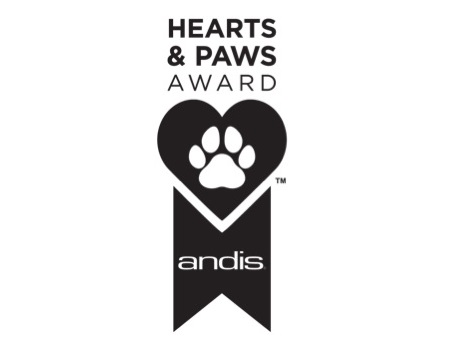 August 5, 2019
Andis Announces Finalists for Hearts & Paws Award
Andis, a leader in the grooming tools industry, has selected three finalists for the 2019 Hearts & Paws Award, which acknowledges grooming professionals who show animals the best side of humanity through their volunteer work with local shelters. 
Voting opened via Facebook on July 29 and closes Aug. 23. Facebook users can vote once per day for the entire duration of voting on the #HeartsandPaws2019 Facebook tab.
"We are excited to recognize groomers who demonstrate a love of animals as well as a passion for the communities in which they live," said Nicole Kallish, manager of education-animal for Andis. "Andis cares deeply for the animals and communities our groomers operate in each and every day, and we want to show our appreciation for the commitment we see from grooming professionals around the country."
Andis will donate $2,000 to the winner's local shelter or pet organization of their choice. The Heart & Paws award recipient will also receive an Andis grooming kit, valued at $1,200.
Heart & Paws 2019 Finalists:
As the Tail Wags Staff: A three-person team—Kristie Perry Kingsland, Tonya Williamson and Ashley Roach—was nominated for their dedication to the pets in their community. If they win, they'd like to give back to The Pixel Fund in Florida.
Cherie Kim: Nominated because of her kind and gentle grooming, and for her big heart. "She has helped me grow into a better groomer and has always been a fantastic resource and mentor for me," said her nominator. If she wins, she would like to give back to Foster Pet Outreach in Illinois.
Melody Anne: The owner and groomer at Stacked and Styled has groomed several dogs in extremely critical coat conditions and uses her grooming talents to help them on the road to recovery. If she wins, she would like to give to Partners 4 Pets in Illinois.