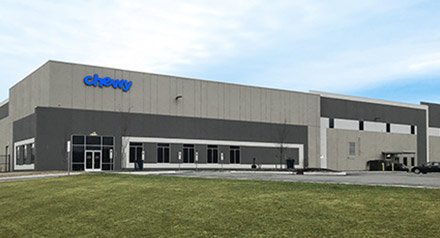 April 18, 2019
Chewy to open new fulfillment center in Salisbury, NC
On April 17, 2019 online pet retailer Chewy.com, owned by PetSmart, announced it would open a new fulfillment center in Rowan County, creating 1,200 jobs. The deal was made possible in part by a performance-based grant of $166,650, which will support the creation of 150 jobs, a statement from Gov. Roy Cooper said.
Chewy will spend $55 million on its new facility in Salisbury, which is roughly 44 miles northeast of Charlotte. The company has seven other fulfillment centers in the US located in Phoenix, AZ; Ocala, FL; Clayton, IN; McCarran, NV; Mechanicsburg, PA; Wilkes-Barre, PA; Dallas, TX. Details regarding the proposed Salisbury fulfillment center's opening were not revealed.
"In addition to job creation, our new fulfillment center will enhance our delivery network across the southeastern United States, allowing us to better service Chewy customers with even faster delivery times," Pete Krilles, VP of corporate real estate and facilities for Chewy, said in a statement.