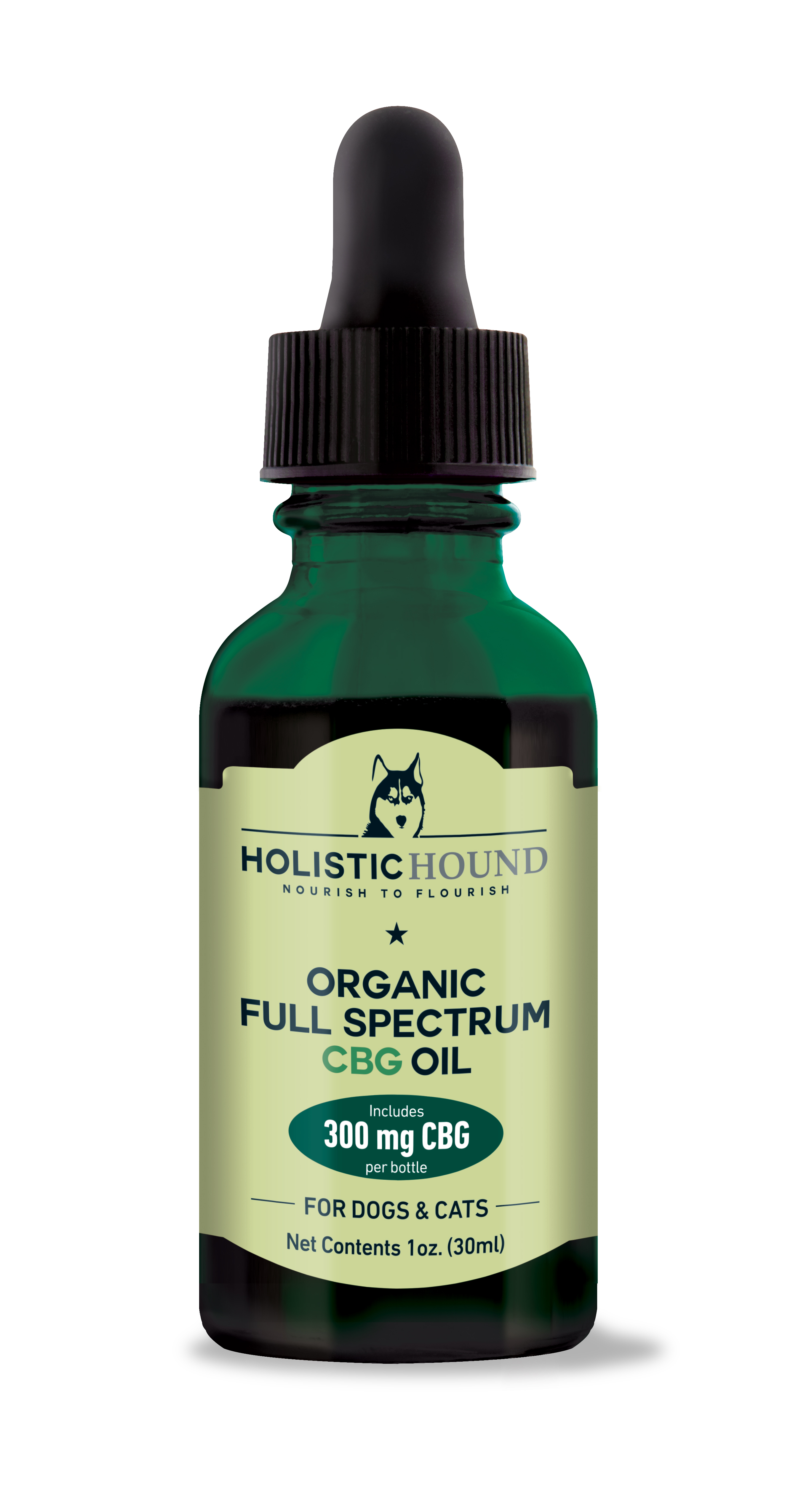 September 18, 2019
Holistic Hound Introduces Full Spectrum CBG
With the growing awareness of the popular supplement, cannabidiol (CBD), more retailers, distributors and pet owners are beginning to educate themselves on the next big phytocannabinoid: CBG. Holistic Hound is one of the first to market with a full spectrum CBG oil for pets. 
Cannabigerol (CBG) is one of more than 100 phytocannabinoids in the hemp & cannabis plant. CBG is considered one of the five major cannabinoids: cannabidiol (CBD), cannabichromene (CBC), cannabigerol (CBG), tetrahydrocannabinol (THC) and cannabinol (CBN). CBG is found in young cannabis or hemp plants, and although there are some similarities to CBD, it is said to be completely distinct in both chemical structure and concentration. 
"CBG is not the new CBD or a replacement for CBD, but rather an amazing complement to it," said Heidi Hill, certified homeopath and founder of Holistic Hound. "Although there are some similarities with other cannabinoids, CBG has its own unique healing benefits and is an exciting new product option for pet parents looking for natural alternatives to improving the health, wellness and longevity of dogs and cats."
"Since 2015, we have been a leader of the CBD category in the pet industry, and it's truly our privilege to continue pioneering product development," Hill added. "We're proud to be the first company to introduce CBG to the pet industry and look forward to continuing our work as a trusted, transparent and educational resource in this space, the pet industry, and among pet owners nationwide," she said. 
According to research reports, data suggests CBG has powerful anti-inflammatory and analgesic properties with strong affinities for the bladder, bowel and brain. It shows promise in reducing anxiety and depression, but is unique because it is said to have a mildly energizing and uplifting effect compared to the usually calming and relaxing effects of CBD. This can result in an increase of focus and clarity. Studies suggest it is can naturally increase dopamine levels, which can help regulate attention, learning and emotional responses. Holistic Hound noted research points to CBG having a great anti-bacterial and anti-fungal properties compared to other cannabinoids. 
"For years Holistic Hound has been known for their veterinarian-formulated, broad spectrum hemp and medicinal mushroom supplements with CBD that are third-party tested, made with organically grown hemp, and Made in the USA," said Brian Little, Director, Supply Brands, Animal Supply Company."As a trusted company in the industry, we know they'll continue to be at the forefront of this rapidly growing category in the pet channel. We look forward to partnering with Holistic Hound on launching its new CBG oil."
Holistic Hound is currently taking orders for their new full spectrum CBG oil and can provide wholesale pricing and additional details upon request.