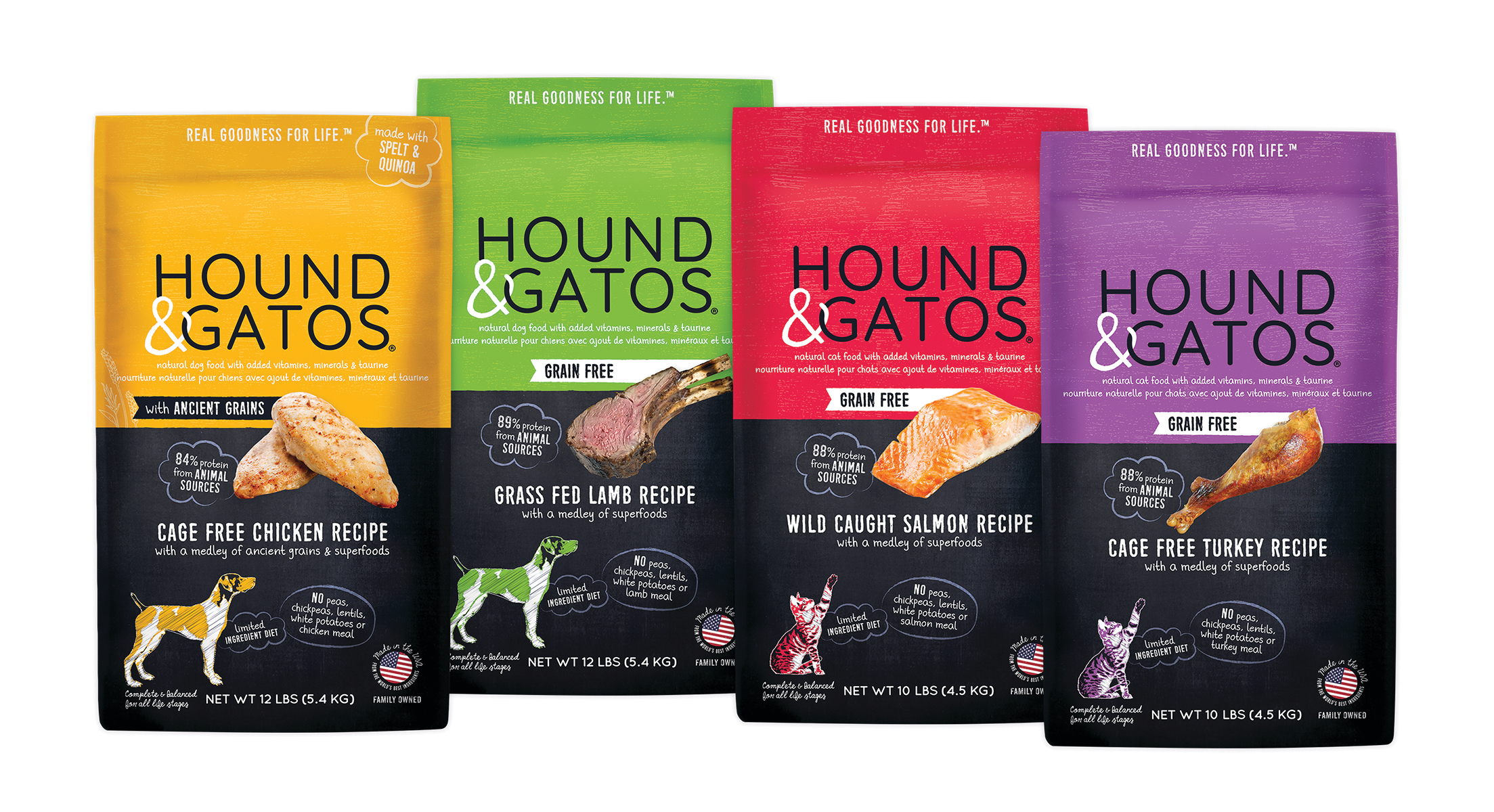 August 16, 2019
Hound & Gatos Launches First Dry Food Line
The family-owned company, Hound & Gatos, recently introduced a new line of dry food for cats and dogs. Hound & Gatos does not use plant proteins, such as chickpeas, peas, lentils or white potatoes. Each recipe is made with more than 84 percent of the highest quality meat, poultry, fish and whole eggs. The meals are crafted with a medley of superfoods such as blueberries, cranberries, broccoli and dandelion greens. 
"We realize not all dogs and cats eat wet food, which is why we deiced to create a line of dry food," commented Patrick McGarry, general manager of Gott Pet Products, parent company of the brand. "This premium food was designed to deliver exceptional nutrition and taste, while helping to minimize the risk of food-based allergies, and I'm confident pets will love it."
Hound & Gatos created three grain-free varieties for cat owners to choose from, including Cage Free Chicken, Wild Caught Salmon and Cage Free Turkey. Each flavor is available in three different bag sizes: 2 pounds, 6 pounds and 10 pounds, prices vary on size. 
Additionally, three grain-free options for dogs are available, including Cage Free Chicken, Grass Fed Lamb and Cage Free Turkey. Two options made with the finest ancient grains, such as spelt, quinoa and oats, can also be found on shelves in Cage Free Chicken and Grass Fed Lamb recipes. According to officials, ancient grains are naturally high in fiber, rich in proteins and contain a broad spectrum of vitamins and minerals to support a healthy digestive system in dogs. The dry dog food can be found in three different bag sizes: 4 pounds, 12 pounds and 24 pounds.