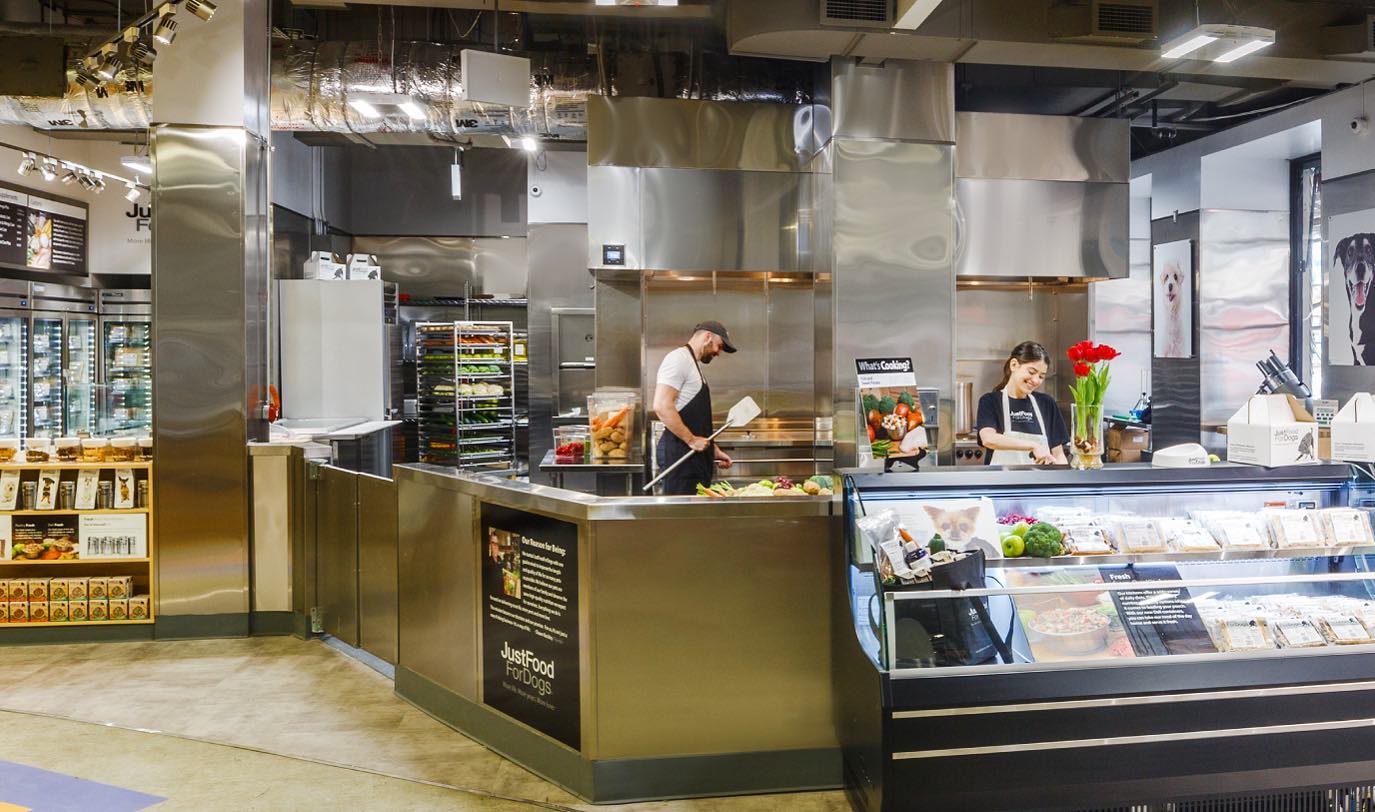 May 13, 2019
JustFoodFor Dogs and Petco to open kitchen in NY store
On May 10, 2019 JustFoodForDogs, the health and wellness kitchen for dogs, and Petco announced the opening of the first-ever, in-store pet food kitchen at Petco's flagship store in New York's Union Square.
The kitchen—which will prepare fresh, human-grade pet food daily—marks a new milestone in a partnership the two industry-leading brands launched in May 2018 and joins JustFoodForDogs' existing lineup of stand-alone kitchens in California, Seattle and others currently under construction in Boston and Chicago. The 1,350-square-foot open health and wellness kitchen in Petco's newly-remodeled Union Square store will feature state-of-the-art stainless-steel appliances with JustFoodForDogs trained chefs hand-preparing the signature recipes. Similar to JustFoodForDogs' existing kitchens, it will produce 2,000 pounds of food daily, seven days per week.
"We're thrilled to introduce New York's first fresh pet food kitchen and mark the beginning of our national expansion with our first kitchen location on the East Coast," said Shawn Buckley, founder of JustFoodForDogs. "Our partnership with Petco has allowed us to increase our national footprint, and with this new location, we're making it easier to access our freshly-prepared meals, custom diet plans, health supplements and more," Buckley said.
"The ability to provide fresh, made-before-your-eyes pet food with real, unprocessed human-grade ingredients is game-changing, both for Petco and for the pets and pet parents we serve," said Petco Co-Chief Merchandising Officer Nick Konat. "This launch truly brings to life our bold nutrition standards and serves as another proof point in our steadfast commitment to only offering foods we believe support the overall health and wellness of pets. We're incredibly proud of our partnership with JustFoodForDogs and excited to bring the amazing products and experience they provide to more pet parents than ever before," Konat said.
Popular JustFoodForDogs meals include combinations such as beef and russet potato; chicken and white rice; turkey and whole wheat macaroni and more, as well as a line of therapeutic diets prescribed by veterinarians to treat common pet health conditions such as food and environmental allergies. They also have grab-n-go snacks such as dehydrated chicken breast and beef flank steak, along with the brand's lineup of vitamins and supplements.