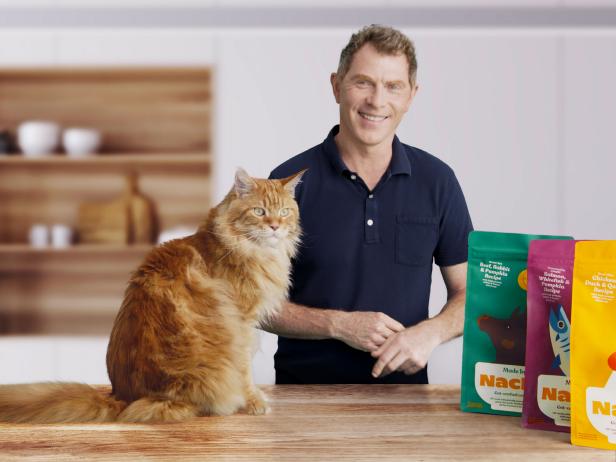 March 15, 2023
Made by Nacho Expands Distribution with Phillips Pet
Made by Nacho, the premium cat food and health brand from Bobby Flay and his cat Nacho, has entered an into an exclusive partnership with Phillips Pet. Making it more accessible for individual pet specialty retailers to stock the brand, this strategic partnership helps grow Made by Nacho's audience nationwide and acts as a foray into marketplaces beyond big box chains. The brand's alliance with Phillips Pet drives their mission of bringing premium, good-for-your-pet products to cat owners, by cat owners.
Launched in 2021, Made by Nacho began as a brand from the heart of renowned chef and cat dad, Bobby Flay and his beloved larger-than-life feline Nacho. The brand offers an array of products like wet food, dry food, meal toppers, treats and more. Each product pays homage to Flay's culinary roots and helps power through the dreaded palate-fatigue that cats often feel through their bone broth toppers, wet food and more. The brand pulls their expertise to cater to every type of cat, using Flay's eye for chef-inspired flavors, in-house Veterinarian Dr. Katja Lang for nutrition quality and Nacho to taste-test – earning the approval from cats themselves.
"We are thrilled to bring Made by Nacho into more households through this exclusive partnership with Phillips Pet," said Co-founder Elly Truesdell. "As the pet food industry grows, we're seeing an unprecedented uptick in cat parents wanting nutritionally-rewarding and satiating food, treats and more. We built Made by Nacho for cats only, with taste and nutrition at our core; we are excited to have Phillips Pet be a partner that will further educate in the category. 
Phillips Pet is known for being a knowledgeable and reliable source for pet food in the industry. As an official retailer of many premium brands, now including Made by Nacho, the distribution business has connected millions of pet owners with trusted brands. 
"We are proud to be adding the Made by Nacho brand to the Phillips family," said Jessica Morris, Senior Vice President of Marketing and Merchandising. "As the exclusive national distribution partner, Phillips Pet Food & Supplies will leverage our network of partners in the pet retail marketplace to bring Made by Nacho to cats everywhere."
Phillips Pet will begin offering Made by Nacho's complete line of cat products to independent pet specialty retailers this month. For more information, visit www.MadebyNacho.com and www.PhillipsPet.com.