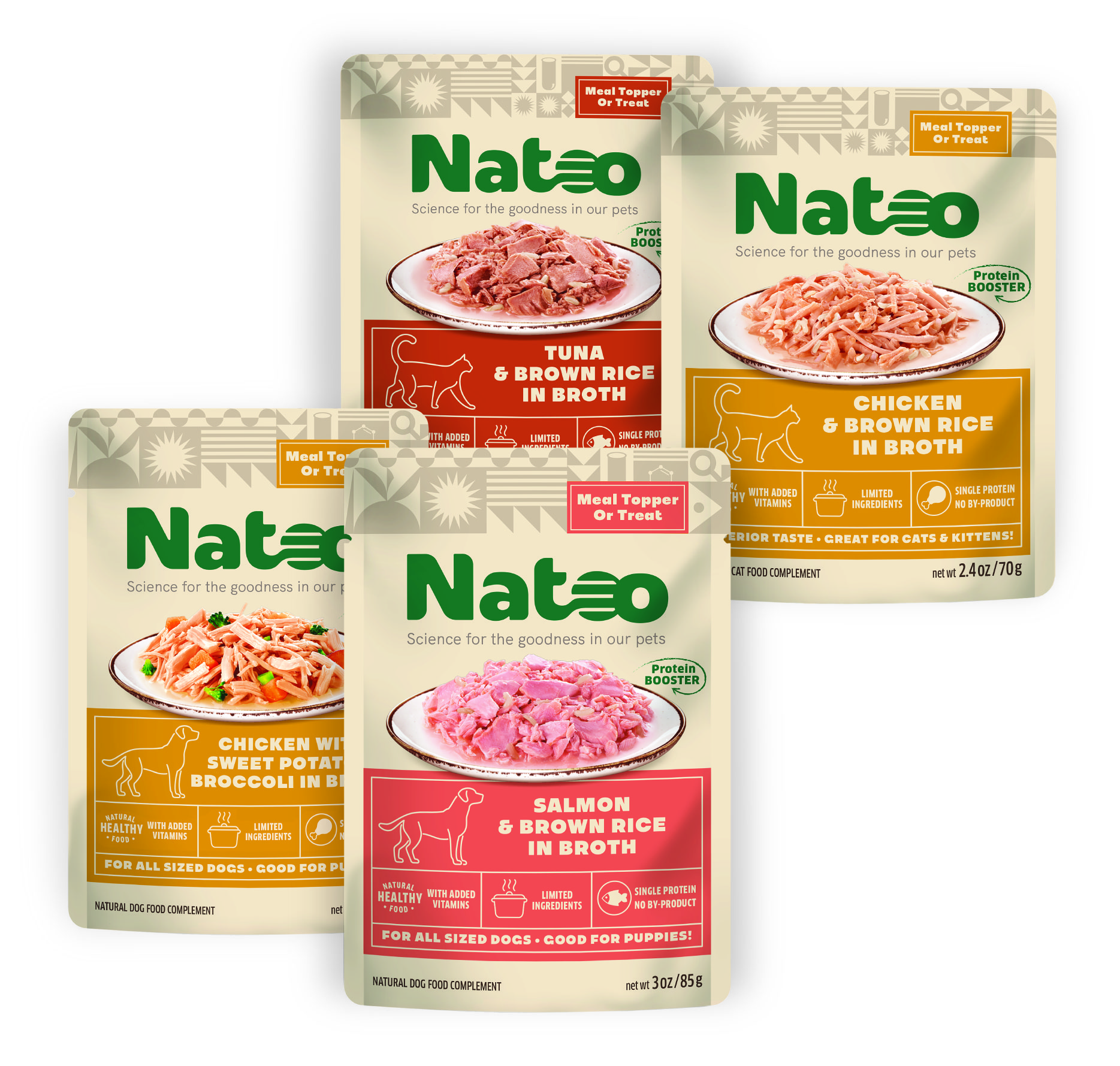 March 16, 2023
Natoo Debuts Meal Toppers/Treats
Natoo introduces a super-premium line of protein-packed meal toppers that can also be fed as a mouth-watering treat.
Perfect for pets of every size and age, Natoo Meal Toppers/Treats are formulated with clean, healthy ingredients dogs and cats naturally crave. Featuring a single protein, along with delicious broth, they do not contain any by-products, preservatives, artificial colors or flavors.
Dog owners can choose from two flavors – Chicken with Sweet Potato & Broccoli in Broth and Salmon & Brown Rice in Broth. Chicken & Brown Rice in Broth and Tuna & Brown Rice in Broth will be available for cats. Each recipe is loaded with succulent shreds of chicken or delectable chunks of fish and is packed in tear-open pouches that are easy to store and serve.
"We're excited to expand our line to include these new, natural and healthy Meal Toppers/Treats," said Fernando Maluf, VP of International Sales for PremieRpet, makers of the Natoo brand. "Our food scientists partnered with veterinarians and researchers to ensure each bite of these vitamin-fortified recipes has the optimal nutrition pets need to thrive."
Natoo Meal Toppers/Treats are produced in the brand's very own eco-friendly facility in sunny Brazil that has earned a Gold certification from the Leadership in Energy and Environmental Design (LEED) program. This means the facility was critically evaluated on criteria such as carbon footprint, water usage, energy efficiency, interior air quality, waste handling methods and environmental impact – and passed with flying colors.
According to Maluf, "PremieRpet has long been recognized as a leader in environmental responsibility and sustainability. We constantly strive to minimize our carbon footprint at every point in our production line, and these new products are no exception."
Natoo Meal Toppers/Treats will soon be available at independent retailers nationwide. They come in 3-ounce pouches for dogs and 2.4-ounce pouches for cats for a suggested retail price of $1.75 and $1.45 respectively. To learn more, visit www.NatooPetFoods.com or contact PetHelp@NatooPetFoods.com.