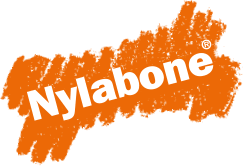 September 14, 2020
Nylabone Donates $20,000 to American Humane's Feed the Hungry Fund
Nylabone, a pet industry-leading provider of innovative dog chew toys, chew treats, play toys and dental solutions since 1955, has collaborated with American Humane for its Feed the Hungry fund, a program that assists animal shelters and rescue groups in providing care for animals during the Covid-19 pandemic. Throughout September, Nylabone will donate $20,000 and help build campaign awareness through promoting the Feed the Hungry fund donation page on social media.
"As shelters and rescues face the ripple effects of Covid-19, dogs need our assistance more than ever," said Glen S. Axelrod, President and CEO of Nylabone Products. "It's important to us at Nylabone to continue supporting American Humane during these unprecedented times and help provide animals the essential care they need."
In addition to teaming up with American Humane for its Feed the Hungry fund, Nylabone has been continually involved with the organization and its Pups4Patriots program. This honorable program unites qualified dogs in need of homes and dogs with military veterans suffering from serious—but often unseen—mental or physical trauma, helping them rebuild their lives together. Nylabone donates chew toys to ease these dogs' journeys as they are trained to lend lifesaving assistance to veterans.
Nylabone supports and donates to hundreds of dog shelters, animal welfare groups and canine service organizations through the Nylabone Cares program. This initiative gives adoptable dogs the behavioral tools they need to thrive in their forever homes, encourages positive chewing habits and educates pet parents on why dogs chew.
Learn more about the Nylabone Cares mission here.