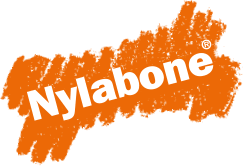 January 21, 2022
Nylabone to Donate Limited-Edition Chew Toy Proceeds in Honor of MGM's Film DOG
Nylabone, a brand in the Central Garden & Pet portfolio, has created a limited-edition Power Chew toy with a camouflage-inspired design in honor of the upcoming MGM film DOG starring Channing Tatum and co-directed by Tatum and Reid Carolin. The company will donate a portion of sales to long-time partner American Humane and its Pups4Patriots program, which unites dogs needing homes with military veterans suffering from mental or physical trauma.
DOG is a buddy comedy that follows the misadventures of two former Army Rangers paired against their will on the road trip of a lifetime. Army Ranger Briggs (Channing Tatum) and Lulu (a Belgian Malinois dog) buckle into a 1984 Ford Bronco and race down the Pacific Coast in hopes of making it to a fellow soldier's funeral on time. Along the way, they'll drive each other completely crazy, break a small handful of laws, narrowly evade death and learn to let down their guards in order to have a fighting chance of finding happiness. DOG will be released in theaters on Feb. 18, 2022.
"It is always an honor to support American Humane's Pups4Patriots program and its mission to bring military veterans and shelter dogs together—creating special life-long bonds," said Glen S. Axelrod, President and CEO of Nylabone Products. "Through our limited-edition chew toy for DOG, we are thrilled to embrace this fun and meaningful opportunity to help show our deep appreciation for American Humane and all the wonderful work they do."
Nylabone's specially made Power Chew toy features a military-style camouflage design and comes in a classic Souper shape. Featuring delicious chicken flavor throughout, this USA-made chew toy will keep extreme chewers happy and busy. It is recommended for dogs more than 50 pounds and available for purchase at select retailers.
Through the Pups4Patriots program, American Humane works to save lives on both ends of the leash. This organization rescues surrendered shelter dogs and trains them as life-saving service dogs for military veterans struggling with the invisible wounds of war, such as PTSD and traumatic brain injury.
"America's veterans served us—and now it's time for us to serve them," said Dr. Robin Ganzert, President and CEO of American Humane. "American Humane has been first to serve with the U.S. military for more than a century, and we are proud to support all veterans, both two-legged and four-legged, through our Pups4Patriots program and military working dog reunifications. We are so appreciative of Nylabone's support, in honor of DOG the movie, that will help us continue to save lives both on and off the battlefield."