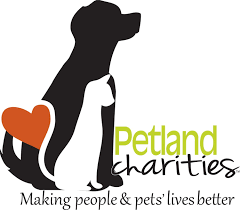 January 23, 2020
Petland Charities to Donate More than $10K in Pet Food to Athens Food Pantry
Petland Charities and the Athens County Food pantry are excited to announce their partnership to provide dog food for families in need. The program will provide $10,000 of Petland's private label dog food line, Heartland Naturals, in monthly deliveries to the Food Pantry, where it will be given to families in need with pets.
Beginning Jan. 24, Petland will deliver 55 12-pound bags of food a month for the next six months. The initial delivery will also include six cases of canned cat food. After six months, Petland and the Food Pantry will discuss the program and evaluate the ongoing need.
"Our board has been aware of the need for pet food," said Karin Bright, President of Athens County Food Pantry. "Our clients have asked about such availability over the years but have not been able to provide that assistance due to financial constraints. We are thrilled to be able to help low-income families feed their pets."
Petland Charities is a 501c3 providing support to local shelters. In January 2019, Petland Charities began a feeding program for the Ross County Humane Society and to date, has donated more than $18,500 in dog food. In addition to the food donation contract, for every dog adopted at Ross County Humane Society, Petland Charities provides a free bag of Heartland Naturals food in addition to a $50 gift card to help the adopter purchase necessary supplies for their newly adopted companion animal.
"We are so grateful for the opportunity to partner with the Athens County Food Pantry," said Petland Charities Executive Director Steve Huggins. "We have a lot of colleagues, friends, families and customers in Athens, and we are excited to be able to help make a small difference in addressing the hunger needs of the county."