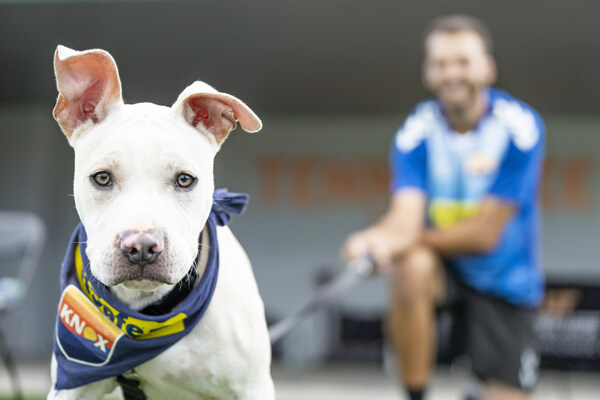 July 25, 2023
PetSafe Announces Winner of One Knoxville SC Mascot Search
PetSafe announces Sweeper is the first, official mascot for One Knoxville SC.
"We are so excited for Sweeper to become the official mascot for One Knox. Fans submitted more than 1,000 votes, and we are happy that we have matched the best dog for the best home. Ultimately, we want every dog to find their perfect, forever home," the company said in a PetSafe news release. "Each dog that was a candidate for mascot has a wonderful story and love to give. If you're inclined and able, please go to Young Williams Animal Center and inquire about these adorable, adoptable dogs or any one of their other 200 pet residents."
For the next few weeks, Sweeper will work with The Dog Wizard in training to be the best, most enthusiastic, mascot possible and fans can follow along via a six-part content series launching later this summer. While some skills he'll learn are specific to being a mascot, many are the same as a well-trained family dog would learn like healing while running with the team, shaking hands, coming when called and being patient when needed.
Fans and families can follow along with the series and learn tips and tricks to unleash joy for their family and pets or simply to watch the new adventures of Sweeper as he begins to fulfill his duties.