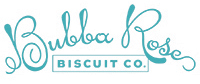 Bubba Rose Biscuit Co.
The Bubba Rose Biscuit Co. is the foremost purveyor of exceptionally crafted 5 star dog treats with a selection as diverse as the breeds we cater to!
Dogs are family. Period. We believe that every dog treat should be made with real, wholesome, clean ingredients. That's why we use local, fresh ingredients from the USA and never any preservatives. Every treat we bake is wheat, corn, soy & gluten free (the most common allergens and fillers in commercial dog products) and always baked in small batches in our bakery in Miami, FL. Our meats are locally sourced, free-range, grass-fed, hormone and antibiotic free. We love animals (that includes farm animals) and want only the best quality and most humane meat and eggs being used in our treats. Everything we make is free of chemicals, salt, artificial flavors, colors, fillers and GMO ingredients. Just healthy, simple ingredients go into our treats. And by the way, the dogs absolutely love them!
Founded by Jessica Disbrow in 2006, and inspired by their rescue dogs, Bob aka Bubba (the bully) and Rose (the greyhound). We care about what we eat and where it comes from and wanted to do the same for our dogs, our family. Bob also suffered from severe allergies, so we quickly took to baking for them and wanted to share the amazing products we were making with the world. We are the authors of 5 dog treat cookbooks including The Organic Dog Biscuit Cookbook and our products are currently sold in over 1,200 locations across the country and internationally. Our bakery and corporate headquarters are located in Miami, FL.
We have been featured on NBC's Today Show, People Magazine, NY Times Style Magazine, Country Living, Town & Country Magazine, HGTVs Posh Pets, NatGeo Wild's Spoiled Rotten Pets!, Bark Magazine, Modern Dog and many more!
We are fully committed to helping make sure every dog gets a loving home to call their own. A portion of every Bubba Rose sale has always gone towards animal rescue organizations. We believe so strongly, that we have created our own 501(c)3 non-profit, the Bubba Rose Foundation, to assist with our local stray dog population and help make sure every dog gets the loving home they so deserve.
– Jessica Disbrow
Founder & CEO
MAP Policies
We require MAP pricing be followed. Our price list/order form lists all MAP pricing.
Also, we no longer allow third party sellers to resell our products on Amazon.
Contact
Jessica Disbrow
Founder & CEO
Set Your Location
Set your location and we'll show you only relevant contacts.