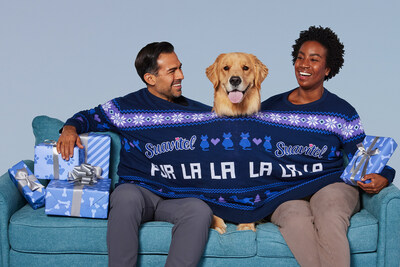 November 16, 2023
Suavitel Introduces Limited-Edition Cuddle Crewneck Sweater for Pets & Their Parents to Cozy Up Together
Suavitel, a leading fabric conditioner brand, is bringing fur families even closer together with the limited-edition Suavitel Cuddle Crewneck. Yes, that's right – the sweater has head holes for both people and their pets.
In celebration of the new innovation, Suavitel Shed Shield, the brand has created the ultimate cozy cuddle fashion statement—the Suavitel Cuddle Crewneck. Pet parents can get their paws on one of two styles: a two-person + one pet sweater design – or – a one-person + one pet sweater design.
As an extra holiday bonus, each sweater will come with a bottle of Suavitel Shed Shield, so pet parents can spend more time loving on their pets and less time worrying about fur mess. Suavitel Shed Shield is the brand's first liquid fabric conditioner specifically designed to repel pet hair and fight pet odors. Now, with Suavitel Shed Shield and the Suavitel Cuddle Crewneck there is a solution to help Saturday movie night cuddles be less stressful and more fun.
"We totally get it—pet fur on clothes is an unwanted accessory! That's why we're excited to bring everyone a super easy, no fuss solution that will make embracing pets even better," said Joe Bylebyl, Senior Brand Manager for Suavitel . "This season, we're all about helping pet parents 'stay merry, not hairy,' so with our unique sweater combined with the fur-fighting power of Suavitel Shed Shield, people can say goodbye to pet hair and hello to more cozy, worry-free cuddles!"
The limited-edition sweater will be available for free, while supplies last, starting on Tuesday, Nov. 28 at 12 p.m. ET by registering at Stay Merry Not Hairy. No purchase necessary. Must be legal residents of the 50 US/DC, 18+. Ends when all prizes have been claimed or at 11:59 PM ET on Dec. 1, 2023, whichever occurs first. Official rules are available here.
Pet lovers can now submit their email on the website to receive a special reminder email alert delivered directly to them 24 hours before the Suavitel Cuddle Crewneck is available so they don't miss out.
Suavitel Shed Shield is available in Fresh Scent (MSRP: $5.49 for 46 oz bottle) at Walmart, Family Dollar and other select grocery stores.
To learn more about Suavitel Shed Shield, click here.