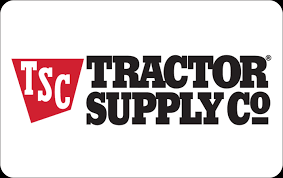 April 20, 2020
Tractor Supply Becomes First General Merchandise Retailer to Launch Same-Day Delivery from 100 Percent of Stores
Tractor Supply Company, one of the largest rural lifestyle retail chains in the country, has expanded its delivery partnership with Roadie to include all of its 1,863 US locations now offering same-day delivery – making it the nation's first major general merchandise retailer to offer same-day delivery from 100 percent of stores.
The expansion comes three years after Tractor Supply initially launched its partnership with Roadie, the delivery service with the nation's largest local same-day footprint. Tractor Supply had plans in the coming year to continue to increase the number of stores that offered Roadie as a delivery option. Given the escalation of the global health crisis surrounding the COVID-19 pandemic, customers' demand for delivery services became even more pronounced. Together, Roadie and Tractor Supply worked to accelerate the ramp up of same-day delivery in almost 80 percent of its stores, or an additional 1,462 locations, in less than three weeks.
Tractor Supply now offers customers the safety and convenience of same-day and next-day delivery on almost the entire inventory from its stores – nearly 15,000 items its customers need to live Life Out Here, including livestock feed, dog food, power tools, tillers, riding lawn mowers, chicken coops and more – without ever having to leave their farm or home.
Founded as a mail-order tractor parts business in 1938, Tractor Supply has grown to become a leading omnichannel retailer nationwide. While most big box retailers focus on customers in major metros, Tractor Supply has been hard at work bringing innovation to America's heartland. Now, Tractor Supply is taking that commitment a step further, making sure its customers' needs are met even while they practice social distancing to slow the spread of COVID-19.
"At Tractor Supply, we are committed to being the most dependable supplier of basic maintenance products for farm, ranch and rural customers. Now, more than ever before, our customers are depending on us to get them their essential goods in a timely manner so they can continue to take care of their families, homes, land, pets and animals," said John Ordus, evp, Chief Stores Officer at Tractor Supply. "It is incredibly exciting to be able to offer same-day delivery via Roadie at every Tractor Supply store."
Because Roadie's on-the-way crowdsourcing model taps into unused capacity in passenger vehicles already on the road, the company is uniquely positioned to help America's largest retailers bring same-day delivery to millions of customers nationwide — even in small cities and towns that most retailers struggle to reach. With more than 150,000 verified drivers, Roadie has the largest local same-day delivery footprint in the nation and reaches 89 percent of all US households.
"Many national retailers struggle to reach rural customers. Everyone wants access to flexible, cost-effective delivery options – not just folks in major cities," said Marc Gorlin, Founder and CEO of Roadie. "Not only did Tractor Supply need to ramp up service in almost exclusively rural markets, but in this crisis, they needed to do it in a matter of days, not months. Our model gives retailers almost unlimited scalability, whether they sell lawn equipment or llama feed."
With full integration into Tractor Supply's ecommerce website and back-office systems, customers receive real-time status updates and can track their deliveries from the store to their door. To schedule a same-day delivery with Roadie, Tractor Supply customers can choose "Same-Day Delivery" at checkout on www.TractorSupply.com or work with an in-store team member to have their in-store purchase delivered.