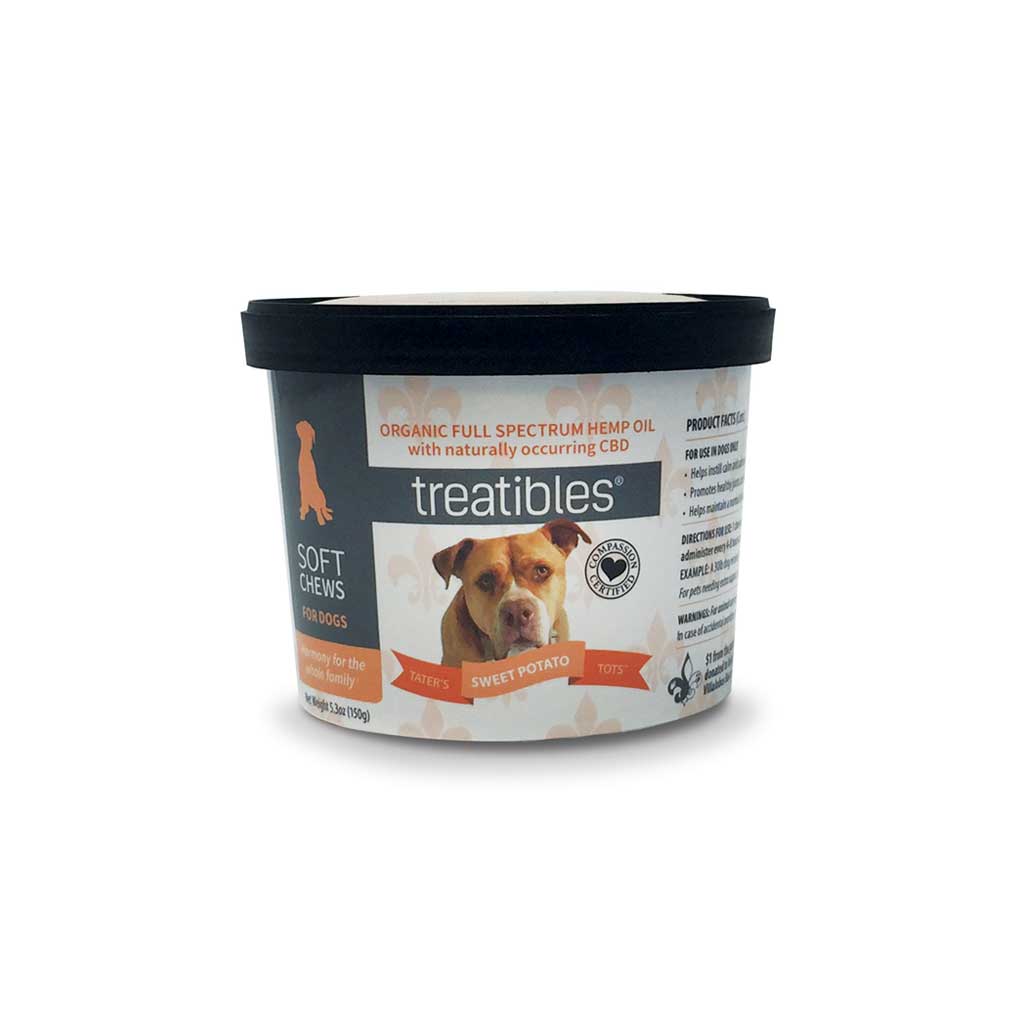 October 11, 2019
Treatibles Introduces Tater's Sweet Potato Tots Soft Chews
Treatibles and Villalobos Rescue Center (VCR) are proud to present their newest collaboration: Tater's Sweet Potato Tots soft chews. Brand ambassador Tater Tot, a rescue Pit Bull from VRC, is featured prominently on the label. These chews feature organic broad-spectrum hemp oil, valerian root, passionflower extract and chamomile flower.
In addition, Tater will be helping fellow pets housed at VRC. Treatibles will donate $1 from every canister sold toward veterinary expenses, which average $500,000 per year.
Tater arrived at VRC in 2010 and was adopted immediately by Mariah Harmony his current owner. She could tell her had a physical discomfort and mental distress, but she was determined to ease both. She discovered Treatibles and began offering it to Tater Tot. The chews had an almost immediate effect on his physical and mental health. The two began traveling the country, delivering rescue dogs to their forever homes.
"Treatibles changed Tater's life for the better," said Harmony. "Physically, he began to enjoy his workday and his obsessive behavior subsided tremendously. To this day, he sleeps peacefully through the night," she said.
When VRC relocated to New Orleans, the severe thunderstorms were frightening to the dogs. The staff began offering Treatibles to these anxious dogs, providing calm and relief. Soon all of the dogs looking for their forever homes were provided with Treatibles chews. It helped them feel more comfortable and let their true personalities shine through.
Harmony shared these stories with Julianna Carella, CEO and Founder of Treatibles and a partnership was born. Together they rolled out a hard chew version of Tater's Sweet Potato Tots. Now that Tater is maturing, he has begun to favor softer consistencies. So, the partners decided to change Tater's formula to a soft chew. They also chose to create it as a vegan offering as dogs that may have certain animal protein allergies could enjoy and benefit from them as well. 
Each Tater's Sweet Potato Tots soft chew contains 3 mg of organic broad-spectrum hemp oil. Treatibles recommends a minimum of one chew per 30 pounds of a pet's weight and up to 10 chews, depending on each pet's individual needs. According to Treatibles, the chews help instill calmness and address anxiety, promote healthy joints and flexibility and help maintain a normal inflammatory response.