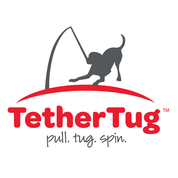 Tether Tug
The award winning Tether Tug allows dogs to pull, tug and spin their way to better health. It not only exercises you dog physically but also mentally. A truly unique product that you wont see in any of the big box stores.
Why Tether Tug?
The Tether Tug System has been perfected and performance tested for the past 10 years by more than 100,000 customers around the world. We're confident that your dog will love the interactive play that Tether Tug has to offer!
Pet Parent Approved & Award Winning Design
Our award winning Tether Tug system offers dogs of every breed, age and size an outlet to expend energy using their natural drive to chase, grab, run and tug.
Proper Exercise Results in Better Manners
Combined with consistent training, this rewarding stimulation and great exercise creates a polite, well-rounded dog.
Wear Out Your High Energy Dog… Not Your Arm!
Constant tugging on your arm and shoulder is not ideal, so let Tether Tug take your place! You can relax while your pup tugs, spins, pulls and runs and then tugs some more.
Tug Today. Tug Tomorrow.
All Tether Tug products are covered by our Tug Tough Guarantee and your complete satisfaction is always our top priority.
MAP Policies
Map price is the same as MSRP
Contact
Set Your Location
Set your location and we'll show you only relevant contacts.